For our latest news, please check out our twitter group here
15th December, 2014 | Presentation prize
The Fourth Annual Postgraduate symposium on Nanotechnology, Birmingham, UK, 2014


Congratulations to Gemma who won best presentation at the Fourth Annual Postgraduate symposium on Nanotechnology in Birmingham, with her presentation titled "Exploiting anthracene photodimerization within peptides: Light induced sequence-selective DNA binding".

5th September, 2014 | Poster prize
The Third Annual Bio-inspired and Biomimetic Assembly Theme Meeting, Birmingham, UK, 2014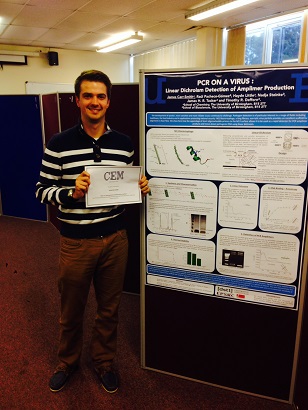 Congratulations to James who won a poster prize at the third annual bio-inspired and biomimetic assembly themed meeting in Birmingham, with his poster titled "PCR on a Virus: Linear Dichroism Detection of Amplimer Production".

August, 2014 | Poster prize
Round Table on Nucleosides, Nucleotides and Nucleic Acids, Poznan, Poland, 2014



Friday 4th July, 2014 | Conference
Nucleic Acids Forum 2014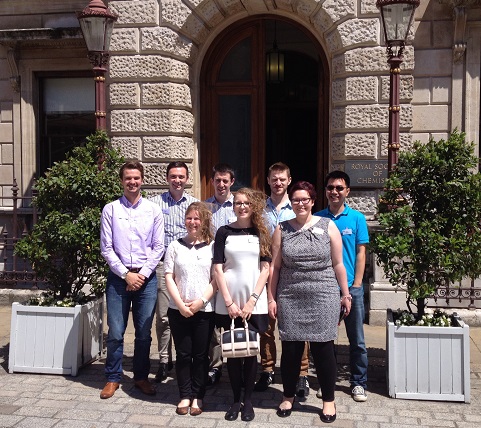 The Tucker group attended the NAF conference at the RSC, with Gemma giving a talk whilst Rosie, James and Jon all presented posters.
Cute that both Rosie and Gemma went for the same hair style...


April 22nd, 2014 | Publication
Well done Rosie

Congratulations to Rosie on her first publication in PLOS ONE.
Find her paper on insertion of DNA duplexes into cells here.



Febuary 26th, 2013 | Publication
Well done Pete

Congratulations to Pete on his paper in Organic letters
Find his paper on the Formation of Hydrogen-bonded Barbiturate [2]-Rotaxane here.



November 23rd, 2013 | Publication
Well done Jim and Jean-Louis


Congratulations to Jim and Jean-Louis on their review article published in Chemistry Letters.
Find the paper here.


November 1st, 2013
Congratulations Antoine


The Tucker Group is pleased to announce that Antoine Sallastrau has successfully obtained his PhD in Chemistry with his thesis titled Synthesis of ferrocenyl derivatives as novel nucleic acid analogues. His work over the past three years has helped the group tremendously, specifically his work towards the development of the first ferrocene based nucleic acid mimic of natural DNA. (see Group Research)
Jim and the rest of the Tucker group would like to congratulate Antoine and wish him all the best in his future endeavors.



September, 2013
1000 oligos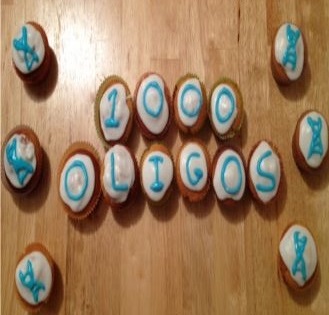 This week marks a significant landmark for the Tucker Group. Our Synthesizer has successfully made 1000 oligonucleotide sequences with the aid of Dr. John Zhao and both past and present group members. To celebrate Gemma made some novelty cupcakes (apparently they are DNA duplexes...).



April 18th, 2013 | Poster Prize
Well done Gemma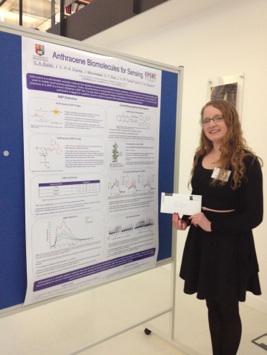 Congratulations to Gemma on winning the poster prize at this year's RSC Bio-Organic Postgraduate Symposium. Her poster titled 'Anthracene Biomolecules for Sensing' gathered much interest and she walked away with a £100 prize.



March 15th, 2013 | Congratulations
James Tucker promoted to professor

The Tucker Group would like to wish many congratulations to Jim on his well deserved promotion to Professor. We would like to thank Jim for his valuable support and we look forward to much more success in the future.



January 10th, 2013 | Nature Highlight
An Iron-clad Analogue

Recently Stuart Cantrill (Nature Chemistry) published a highlight of our recent publication towards the synthesis of a ferrocene nucleic acid mimic of DNA.

If you wish to read this piece click here.
If you wish to read the full publication click here.